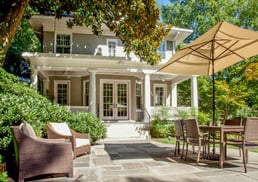 A well-designed and curated indoor/outdoor space will quickly become the automatic favorite spot in your home for entertaining, relaxation, and everyday living. During the transitional seasons of spring and fall, indoor/outdoor spaces are especially appealing. Perhaps you have an indoor/outdoor space that needs a little sprucing up and love, or maybe you are considering an indoor/outdoor space as a part of a renovation or addition. We want to share a few tips and recommendations for creating a truly perfect indoor/outdoor space in your home.
Think outside the box.
An indoor/outdoor space doesn't always have to mean the traditional open patio or veranda. Consider spaces like the kitchen or bathroom as potential indoor/outdoor spaces through the use of large sliding doors, windows, or garage door style openings.
When choosing furniture and fixtures, prioritize functionality.
Choose styles that are durable enough to stand up to outdoor conditions like humidity, dew, rain, wind, dust, and pollen. (think: treated wood and tough fabrics).
Think about how you'll want to use your indoor/outdoor space, and be sure design the flow and configuration accordingly.
Will you be serving meals in the space? Hosting large groups of people? Using it for primarily for relaxation? The set-up should reflect the space's intended primary use. If you know you want to entertain, don't crowd the area with too much furniture. A more relaxing space will require comfortable nooks for lounging.

As you think about the aesthetic look you're going for, don't forget that nature and the outdoors will be the automatic backdrop for your décor choices.
If the rest of your home is decorated in a certain style, carry it into the indoor/outdoor space in a way that blends with its natural surroundings (think: color palettes found in nature, natural materials, etc.)
Choose a few elements to keep consistent between your indoor and outdoor areas.
To bring unity to your indoor/outdoor space, choose a few elements to include throughout the space. One of the best ways to implement consistency is to apply the same (or very similar) flooring throughout.
The perfect indoor/outdoor space turns an otherwise ordinary home into something truly special. There are so many options and opportunities to make an indoor/outdoor space fit the unique needs and requirements of your home, so don't write the idea off immediately if you have concerns about the addition of an indoor/outdoor space. Concerned about less than favorable weather? There are countless options for attractive doors and moveable barriers. Worried about styling your space? There are many attractive options to make an indoor/outdoor room the most stunning space in your home. If you are thinking about the addition of an indoor/outdoor space in your home, a quick Google Image or Pinterest search will get your inspirational juices flowing. The possibilities are endless!