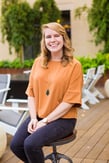 Marks-Woods is all about staying on top of what's new and exciting when it comes to design. Danielle Walther, our interior designer, recently returned from the KBIS (Kitchen & Bath Industry Show) in Las Vegas to discover top trends for 2019 and beyond. Her experience at the show has her more excited than ever to collaborate with clients to create beautiful interiors.

---

For The Kitchen


Bold Appliances
The refrigerator in your kitchen doesn't have to be a strictly functional element anymore. Brands like BlueStar, Miele, Thermador, GE Café, GE Monogram, Dacor, and Smeg make appliances pop by adding design elements like color and pattern to add to an already existing design scheme or even become the focal point of the room.
Hidden/ Paneled Appliances
Paneling and painting appliances to match cabinetry is a great way to upgrade the look of any kitchen. The integration of appliances in a built-in kitchen is the #1 way to give the space a sleek, high-end feel.
Electronic Lift Up Cabinetry
Luxury brands are incorporating electronic hinging lifts to open cabinet doors with the simple push of a button. Displays also showcased sliding cabinetry meant to hide contents for a fully customizable look.

Going For Gold!
Gold is THE color—it's back and here to stay. Many displays at the show featured gold plated cabinetry, fixtures, and hoods. Gold is so "in" right now that the displays that didn't feature the ultra-popular hue seemed a bit out of place.
Color Trends
Benjamin Moore's stunning display featured the brand's "colors of the year" painted onto cabinetry doors. Colors of the year included many different variations of blues and navies (Hale Navy, Black Pepper, and Beau Green), and some pastel colors (Putnam Ivory, Soft Fern, Pashmina, etc.). The grays and neutrals of recent years are being replaced by more colorful options and will undoubtedly tempt homeowners to stray from classic white cabinetry.


---

For The Bath


3D Printed Faucets
These thin, low profile, yet high tech faucets are certainly eye-catching and unique. They aren't cheap, but add that extra "something" to any bathroom design. Check out 3D faucets by brands like Kallista and DXV.
Freestanding Bathtubs
What's more luxurious than a freestanding tub? Gorgeous claw foot details and extras like wine/champagne glass holders make the on-trend tubs a special addition to a master bathroom.


Mixed-Metal Vanity Lighting
A departure from traditional monochrome nickel and chrome fixtures, a noticeable trend for 2019 is vanity lighting with sleek and contrasting metals like gold and black. The mixed metal look is a good way to add personality and character to the bathroom.
Recycled Tile
Ann Sacks is releasing a line of tile made from the Kohler WasteLAB. Using discarded toilets and other plumbing fixtures, the brand is making truly gorgeous tile. The options include colors like deep reds and ambers. The best part about the collection is that it boasts a manageable cost per square foot!
Smart Home Bathroom Technology
New technology allows homeowners to detect and stop common bathroom issues like leaks in the faucets, toilets, and showers. Home automated "smart toilets" and shower controls are also becoming more popular. A few brands are even rolling out "rain shower" experiences that emulate the feeling of an actual rainstorm!